Knee pain running makes your heart sink!
When you realise that niggle in your knee you felt yesterday is still there today!
Oh no… maybe it just needs one more day of rest and it will disappear.
Maybe it is only in your mind?
Internally you are sweating buckets as you have a race coming up in 5 weeks and now is the time when you are meant to be putting in some long, intense training runs.
6 days later you think the pain has gone- there is no pain when walking or climbing stairs.
So you think it is safe to test a small jog.
Oh no: it can't be!
Within 150 meters, it is obvious, your knee pain running is screaming at you, the pain is still there.
Suddenly you get really angry!
In complete denial, you run faster and faster trying to "run it off".
Sadly though, 75 seconds later, the pain has got so intense, it is like a red-hot poker going through your knee.
Disheartened and knowing your race looks in grave danger, you limp home- hoping no one can see the tear that just escaped from your eye.
Lucky you wear sunglasses!
All those months of training-wasted!
You slide into the depths of depression.
Finally you go and see a doctor- he says "go home and rest-you have over trained- it is inflamed"
You cancel the race, start drinking beer and eating donuts.
On race day you feel terrible regret, anger, sick to your stomach that you are not lining up on the start line.
Some of you will go to the race anyway to support your buddies, for some though it will be too painful. They will not watch the race, they will not look up the results, they will pretend it never existed.
3 months on:
So three months on: you have no knee pain running, you have kept up some swimming but nothing else. You start back on the bike- phew- that seems fine.
No problem.
You start building the cycle mileage back slowly.
Tentatively, you do a small jog….wow- you are amazed at how good it feels to have no knee pain running (even though it is slow).
You jog 20-minutes- and stop just to make sure.
What a blessing.
No pain.
You suddenly appreciate how good it feels to have no knee pain running
Slowly you build the running mileage making sure you do not run consecutive days, being cautious, doing the right things- hey you even do some stretches after running now- that never happened before!
A month later you are back to 1 hour jogging. You have even thrown in some intervals- and the knee behaved well. No squeaks.
You are now pretty confident, it has gone.
Why did it happen- who knows? One of those things, I guess.
You start to put it out of your mind.
2 weeks later however you get a reminder. You did a lot of downhill running, and by the end- you again notice knee pain running!
Your heart sinks.
No it could not be!
Immediately you cease running and have 5 days off…
You go back to it gently- it is still there but in the background.
You keep running every second or third day. You can feel it most times but it is manageable. You keep running.
Until again it starts to get so bad- you have to stop. Now you can feel it straight away when you get out of bed in the morning.
This is ridiculous!
"But I have not done anything, I have not been in an accident or had any trauma. This is not fair!" you cry.
You finally go seek a second opinion.
You discover it could be biomechanical.
It could be the way you run, it could be the way your feet land, or your hip drops when you run.
Why do I get knee pain running?
To be honest this takes a bit of getting your head around.
"But I have always run this way"
"But I can't change the way I run-I just run"
My friends, if you have not had trauma to your knee- like an accident, a fall or a twisting injury, it is highly likely the reason you have knee pain running is the WAY you run.
The knee is a hinge joint. It should open and close in a linear fashion.
Unfortunately for most people who run- there is a lot of twisting and rotation in the trunk, in their pelvis and in their legs which cause a lot of torsional forces through the knee.
This results in a lot of inflammation, and irritation to the cartilage, ligaments and tendons surrounding the knee.
Unless the cause of your knee pain is addressed- you will

always

have knee pain running
Of course it will settle down when you cease running- but unless you address the way you run- you will always get pain when you reach a certain mileage.
Yes it is possible to get away with poor technique if you only jog 5 km once a week. Your body can usually cope for a while.
But as triathletes training for times and distance, we need to get closer and closer to perfect technique to ensure we are placing less stress on the knee and removing excessive torsion.
If you consider Olympic runners- everyone has their own style but the fundamentals are largely similar:
A slight lean forward
A stable torso
A high knee lift
A high heel lift at the back
Good hip extension
Forefoot or midfoot landing under their centre of gravity
Most amateurs swing their trunk when they run, don't lift their feet very high, kick their heel out as they bring it through- all sorts of weird and wonderful variations.
And it is no wonder- nobody is taught to run.
We just grab some shoes and start.
Get a scary video done of you running
A great exercise is to ask someone to take a video of you running. Just a simple one- a smart phone will do.
You will be astounded at how you look if you have not done this before.
Most people assume they look like Usain Bolt or Craig Alexander when they run. But sadly, this is not the case.
Runners who have grown up through running clubs, may have a slightly better chance if their coach schooled them in technique.
Some runners were lucky enough to do drills: bum kicks, high knees, balance work and lunges.
But most running clubs and tri clubs just work on training programmes of speed and distance rather than technique.
If you do get frequent knee pain running- I urge you to seek some help and examine HOW you run.
The good news is- once you address this- you will have many happy days running and improving your times.
By the way the bonus is that if you do improve your technique, your running times will improve drastically as you will be more efficient and waste less energy rotating and bouncing up and down.
Instead learn to focus all your energy at the finish line.
Conversely if you ignore your running technique and keep blasting through your training with knee pain- you will be doing long-term damage to your knee joints and cartilage. You will get accelerated wear and tear ie arthritis.
Knee pain running is a signal that there is wear and tear and damage
Listen to the pain- do not do what I see some people do and load up on painkillers and continue to run. You will shorten your triathlon or running career and be on the fast track for a knee replacement.
What is the answer?
The answer is not to go out and buy new shoes!
The answer is making some small changes to the way you run. Running starts in the core, the hips and gluteals. Do not just think about the feet.
You will need to work out what happens in your body as you run
• Is your hip dropping as you land?
• Do you heel strike or mid foot land?
• Do you rotate your trunk?
• Are you arms swinging forward and back as you run or across your body?
• Have you got any hip extension?
• Does you heel kick out as you bring it through?
You will need to understand the fundamentals of the key ingredients to good running and make small changes over time. Think of tweaking by 1% here and 1% there.
Then strengthen the bits that are weak, stretch the bits that are tight and do some drills to teach your body the correct movement patterns so that when you do run, it is largely automatic.
My friend James Dunne from Kinetic-Revolution has created an amazing program to help you understand this and get a good grasp of it.
There are very helpful videos where you can compare a "good " technique versus a "poor" technique side by side so you can see the difference.
He explains clearly the drills you will need to do to correct inefficiencies.
It is not expensive!
If you do have knee pain- do not hesitate- get this Runner's Knee Rehab program now. It is incredible for value for so much. Most people pay $100 a session to a physical therapist every week for 8 weeks to get the same information.
You have nothing to lose. Plus you get a 60-day money-back guarantee, no questions asked. I can assure you that you won't require this. Follow the steps- be systematic.
The ONLY way to fix your knee pain running long term is to improve your gait
Sports massage may help- but it will only be temporary.
New shoes will make you feel good for about 10 minutes until you realise that the pain is still there.
This program will save you hundreds of dollars at the physical therapist or sports massage table.
This program will save you hundreds of dollars in wasted entry fees for events you pull out of.
This program will save you intense frustration and disappointment.
But once you implement these drills and improvements to your running technique, you will notice your running becoming easier, more efficient and effortless.
If you think about the best runners in the world, it does look effortless. For most people you see running in the park- it looks like a struggle!
How long will it take?
James has devised a 12-week programme to teach you systematically through how to change your technique without injury. There is a 52-minute webinar, a return to running plan and specific mobility exercises that actually work.
Each exercise and drill is fully supported with videos so you can't go wrong.
It may seem difficult at first- of course as anything does in the beginning. As you are making changes it may feel weird or awkward- this is completely normal.
It is the same when a coach changes the grip on your tennis racket or golf club. You feel weaker at first and awkward, then a few weeks later- you are hitting further and more accurately than before.
Whether you have patellofemoral pain, ITB syndrome, Runner's knee, ligament or cartilage issues, this programme is for you.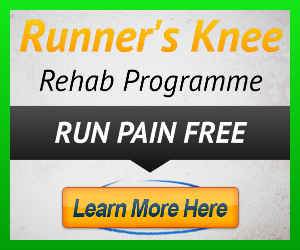 If you understand which exercises to do to reduce the stress on your knee, you will be able to run pain free.
But exercises are boring!
Three points in response to this:
1) They may be boring- but they are a LOT less boring than getting a knee replacement or giving up a sport you love
2) You are a triathlete- you are used to exercises
3) Like all things –consistency is the answer. They wont take long- but just be a bit disciplined and do them every day. Little and often and you will be back running before you know it!
Disclosure: Please note that I am an affiliate of Kinetic-Revolution. If you do decide to purchase I will receive a small commission. There is no additional cost to you whatsoever. I do not recommend many products at all and will only recommend products or service on rare occasions that I believe they are excellent value and will truly help you.
I have had knee pain running
Yes- and finally I will share with you that I too, have had knee pain running.
This is an issue close to my heart.- I went through incredible frustration too- but I know it CAN be fixed!
It was many years ago just after university. I had no injury or accident. I was just running and got knee pain.
I did the usual things of course, as I knew no better. I rested for a while. Then went out running.
It was still there so I got angry and tried to run through it.
I finally went to a doctor who told me I needed surgery!!!!
Are you joking? A 20-year-old kid with no history of trauma getting their knee chopped open with a scalpel?
I did not know much then but I knew I did not need surgery.
Anyway so I went to physical therapist who quickly identified runner's knee- easily fixed by a series of stretches and strengthening exercises.
I set about doing them and since then have had 20 pain free years of competing in running and triathlon events.
If you have any questions about your knee pain running or whether this program is right for you, or how to start fixing your knee, please comment below.
I am really passionate about this topic and have helped hundreds of runner's get back to pain free running.
Do not give up on it- it can be beaten,
Let me know your results,
Good luck,
Sam